As we near the end of winter and enter spring we would like to provide a small update here at EHS MFR and EHS Operations. There are a few new faces at EHS and plenty of work going on at EHS and we would like to share some news.
New Sr. Manager of Operations

EHS Operations is pleased to share the recruitment for the Senior Manager, Ground Operations position is now complete. Gordon Peckham has accepted this challenging and rewarding role within EMC and will be joining us January 9, 2023. Gordon has 22 years of progressive leadership experience in the healthcare industry and a proven track record for creative thinking, planning, process improvement and problem solving. He has extensive experience in a variety of clinical, military, and academic environments in Canada and abroad. He joins EMC after his most recent experience as Senior Director, co-leading the development and implementation of the Nova Scotia Health (NSH) Coordination Centre (C3). Previous to that, he was the NSH Director of Operations for Central Zone and Dartmouth General Hospital.
Gordon brings strong clinical operational experience, with both a strategic and operational focus on improvements in outcomes and the pursuit of excellence. He is a recognized leader who has consistently fostered effective partnerships and healthy work environments through collaboration and teamwork.
New Medical Communications Managers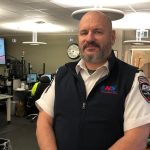 We are pleased to announce Dayman Perry has been awarded the term Senior Manager of Medical Communications and Patient Flow position. Dayman began his career in 2001 as an Ambulance Communications Officer with the Ontario Ministry of Health. In 2005, Dayman joined Niagara Emergency Medical Services where he has served as an Emergency Medical Dispatcher, Communications Operations Superintendent, and Commander EMS Operations. Dayman will begin this new position on March 27, 2023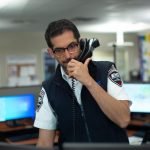 As well, Ahmed Jamshidi will be stepping into the interim role of Manager, Medical Communications and Patient Flow. Ahmed has served as the Manager of Patient Flow since Fall 2023, and over that time has developed processes and relations with Nova Scotia Health as they have been building the Care Collaboration Centre and moving forward with improved Access and Flow. Ahmed's previous experience as a communication officer, paramedic and MCC supervisor will be of great benefit as he steps into this role providing manager oversight and support to our supervisors, communications officers, transfer administrators and the operational processes and functions of Medical Communications deployment and patient flow. Ahmed will begin this manager role on April 3, 2023 and will be reporting to Dayman.
Register Now: First Responders Wellness Symposium – South Shore & Valley
Keeping strong people strong. The First Responders Wellness Symposium is being help April 29, 2023, from 0800-1645hrs. at NSCC – Lunenburg Campus (Bridgewater). Cost is $20, which includes refreshment breaks and a light lunch. Pre-registration and payment is required, click here.
Commission on Accreditation of Ambulance Services (CAAS) Virtual Site Visit to EHS
EHS has been preparing for Commission on Accreditation of Ambulance Services (CAAS) reaccreditation. During a virtual visit, the CAAS evaluation team will conduct interviews, inspect records and connect with our team members throughout the province to help evaluate the system's compliance to the CAAS accreditation standards. Topics that the accreditation team may ask include anything to do with your role within the system and the care you provide your patients. The completion of virtual meetings will be facilitated by the operations leadership team. Visit the CAAS website to learn more about CAAS accreditation.
Tuition Bursary Program for Future Paramedics
Do you know anyone who may be interested in becoming a paramedic? A new tuition bursary program was recently announced that will see new eligible paramedic students receive a $11,500 rebate on their tuition, provided they agree to work in Nova Scotia for a minimum of three years. The tuition support was announced in conjunction with two new satellite primary care paramedic courses at NSCC campuses in Yarmouth and Stellarton, which are set to begin in May and July, respectively. To learn more about these upcoming courses, please click HERE.
Privacy Pointers – TikTok
The popular video-based social media app, TikTok, may not be as harmless as it seems. It may create a serious privacy risk to those who have it installed on their mobile device. The way that the TikTok application collects data allows substantial access to the contents of the device on which it is installed, which leads to increased vulnerability to surveillance.
It was announced on February 23, 2023 by the Office of the Privacy Commissioner of Canada that a joint federal and provincial investigation into the short-video app TikTok was being launched over concerns about the platform's collection, use and disclosure of personal information. The investigation will examine whether TikTok's practices are in compliance with Canadian privacy legislation and in particular, whether valid and meaningful consent is being obtained for the collection, use and disclosure of personal information. It will also be looked at if the app is meeting its transparency obligations, particularly when collecting personal information from its users. A focus will be on younger users and protecting their privacy. In light of this both the Nova Scotia Provincial Government and the Federal Governments have announced that they are banning TikTok from all government-issued phones, citing an unacceptable level of risk to privacy and security. It is recommended at this time that if Tik Tok has been downloaded on any EMC corporate phones that it be removed/deleted due to these privacy risks and ongoing investigation.
Indigenous Artwork Showcased
A partnership between EHS and Friends United will see Indigenous artwork showcased at select paramedic stations and regional offices across Nova Scotia. Over the course of the partnership, Friends United, based out of Cleveland in Richmond County, will donate up to 60 pieces of artwork. Five of those pieces from Mi'kmaw artists Loretta Gould, Amanda Julian, Darren Julian and David J. Brooks were unveiled Tuesday at EHS HQ – Redstone and will be displayed in various areas. Watch the Global News story here.
In the News
N.S. Government Tables Budget Focused on Health Care
The Nova Scotia government's 2023-24 budget shows major increases in tax revenue and much of it is being spent on health-care-related projects. Finance Minister Allan MacMaster tabled his government's second budget on Thursday, a document aimed at meeting the Tories' ambitious promise of fixing health care while signalling that promise will take time. "As a growing province, we have the capacity to make significant investments in health care to fix it," he told reporters.
"This budget provides faster access to health services, delivers solutions to build the health-care workforce, offers improvements for seniors and long-term care and advances our plan to build more health-care facilities sooner."
The budget shows $14.2 billion in revenue and $14.4 billion in expenses, with a deficit of $278.9 million. The lion's share of those expenses — $6.5 billion, or 45 per cent of all government spending — will go toward health care-related projects.